Why buy the first New Zealand Home in Queensland Australia
Alternatively, we can even ask who should buy the first New Zealand Home in Queensland Australia? In short, the answer is only people who understand that Gold Coast real estate prices are much more affordable to compare to Auckland.
Let me ask you: do you like cheat-sheets?
If your answer is "no" please let me rephrase my question: -do you like blueprints? The point I'm trying to make is this blueprints like maps if you follow it according to instructions you are going to get what is expected at the end of the journey. In fact, blueprints are everywhere yet when it comes to real estate people somehow prefer not to see the obvious. By the end of this article, you will know how to FastTrack your first home purchase.
This is not a get "rich-quick" article. In many people, view "quickies" don't deliver the most desired outcome for all involved parties anyway. This article is about how to make money and buy your first New Zealand home. If however, you have a very short attention-span you better carry on with your PlayStation games.  Meaning this article is possibly going to shift your first home owner paradigm.
4 reasons why people cannot enter the property market in Auckland
There are four main reasons why people cannot enter the property market in New Zealand, Auckland especially.
Property Prices
Deposit requirements
Income levels
Credit History (read further there is a light at the end of the tunnel)
Can you relate to one of the above categories? Do you feel that "insert your category" stops you from buying your first home? This article is going to show how you can streamline your New Zealand property journey. By buying your first New Zealand Home after you bought a house in Queensland Australia.
About this article "Why buy the first New Zealand Home in Queensland Australia"
In this article, I'm going to address all of the above. By explaining the benefits of buying your first home anywhere rather than saving for your first dream home in the location where you want to live. In my view, your first home is most likely going to be a trade-off anyway due to a small deposit or high real estate prices- whichever view you prefer.
Before we discuss most important points may I ask you to read the whole article and make your conclusions after? This article is about how to enter into New Zealand property ladder using Gold Coast real estate as the entrance.
The author recognises the fact that property ownership is almost impossible for many people in Auckland. The goal of this article is to show you that there is a lot easier way for you. It means you might buy the first New Zealand Home in Queensland Australia to advance your savings and as the result of this strategy became an Australian landlord first.
New Zealanders can buy investment properties in Australia yet pay additional tax. This Australian Government website answers all your questions.
Prices to buy the first New Zealand Home in Queensland Australia
Prices, if you live in Auckland and have two normal incomes, meaning yours and your partner's you really have to be extremely disciplined in order to save as much as it is going to be needed for your first home deposit. Keep in mind due to increasing property prices the "golden post" moves away. If you want to save money for your first home get yourself ready for a very long journey. Alternatively, read this article and come up with the plan of actions. Your plan should help you to buy your home FASTER.
If you by now, wonder how much would you need to buy your first property think about this "cheat-sheet" approach:  Gold Coast real estate prices roughly as twice as affordable to compare to Auckland property prices. Good start right?
By the way, there are many people who have already lost their hope to buy their first homes in Auckland. Many of them agreed to the fact that they are going to be "permanent" renters all due to one or a combination of mentioned above reasons.
If you are thinking about buying your first home in Auckland you need at least $50,000 in my view due to the current prices. Plus on the top of it, your mortgage is going to attract LMI fees.  Lenders Mortgage Insurance (LMI) this is an amount of money your lender (bank) charges you on the top of the purchase amount if you have less then 20% downpayment for your first property and as you would appreciate it makes your repayments higher.
Rent where you want to live yet invest where you can afford
Would you be happy to buy your first house, not for yourself? Would you agree by doing so you can increase the level of your income as well as you accelerate your savings by employing someone else's income? I know many people who bought their first home as their first investment property and this simple trick set them financially for life. Many of them became serial property investors even before they bought their first home for themselves.
Even the Auckland property market is cooling-off yet the affordability level is yet to catch up with the reality. Unless you are making mega dollars in your employment it is hardly possible to save up for a house deposit due to the fact that life, in general, gets on the way. Most of us always chasing the next shiny object rather than concentrating on the big picture. Need an example? I have plenty; – yet let's turn it into a question: – how many of your friends have latest iPhones & IPads yet are dreaming about their first home? The point here is if you have kids and two normal incomes it is really hard to save money for a deposit.
Credit history, let me come up with a story: A single mum buys a set of baby furniture using a consumer credit yet loses her job after a few weeks due to company new HR approach. As the result, she is not capable of paying as much as she must and DPB is not enough. A pile of payment notices grows on her desk yet the baby takes all of her time… after a few months, her debt is getting sold to a debt collection agency for pennies on the dollar and first default gets recorded against her name.
Alternatives to banks
A default would stop anyone from using a bank home loan for the next five years and only finance companies would offer home loans yet the interest rates would be much higher. Would you agree to it looks like people with less money, in fact, have to pay more? Here are a few examples:  In order to pay the lowest interest rates (as advertised) apparently you should have at least 40% of home equity. In order not to pay LMI you have to have 20% equity in your future home.
Now let's look what can be done in order to accelerate or fast track to buying your first home.
How about if your first home cost was only $150,000 would be much easier to save a 10% deposit? What if your first home was intentionally an investment property bringing you $10,000 of additional gross income? Keep in mind if you buy first New Zealand Home in Queensland Australia all of it became possible.
Have you ever looked at the Gold Coast apartment market? Below you can see a few properties which are available now.  As you can notice I intentionally taken screenshots of the current offers – those ones are readily available to be purchased.  If purchased for the listed price the new owner can later brag about "negotiation skills he or she has by stating that they managed to negotiate $5,000…down. I agree on a 150k property a whopping 5k can be seen as a good achievement.
Yet there is a much better way of buying your first investment property on Gold Coast Property market.
The better way
Have you ever tried to sell an old car? Did you get as much as you initially wanted? The point here is – once you have something for sale it can be a quite daunting task to sell and property is no exception. In any sales process, our prospective buyer should be able to see the value.
How can you see value in a property? The value can be a location of a given property or condition for example too good for the price or too cheap meaning that the condition of the house isn't really important.
Vlad Ivanov helps people to find "situational property deals". People sell properties for a myriad of reasons yet the best deals hardly ever hit Australian MLS like Realestate  or Domain, they get sold to people who are ready to buy today.
In order for you to be ready, you must have your pre-approval. By the way, you won't be able to borrow in New Zealand to buy a property in Australia. In order for you to buy an Australian property with a mortgage in Australia, you must use an Australian lender.
How Vlad Ivanov's team can help you to get to where you would ultimately want to be? Vlad Ivanov has a very unique proposition: he is a Licenced Real Estate Agent and a Credit Licenced Representative – meaning you can talk to one person about your loan options as well as about your desired property.
The best tip if you want to do buy a property
Would you agree when you want a house for yourself you have to like it first – right? On the other hand, when you buy an investment property – numbers should make you think you like it or not. It can be complicated and many first-time property investors make mistakes yet when you have someone helping you it gets much easier.
Please note, when you think about an investment property think "situational" meaning why the owner sells the property? For instance, a very good buy can come from a "Deceased Property" or "Mortgagee Sale" – I mean at the end of the day everyone knows about it yet often don't employ it.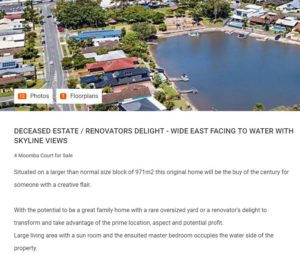 Did you know that in order for a bank to advertise a"Mortgagee Sale" it means that the normal sales channels didn't work already? This means that this property wasn't sold in the first place. When you see "Mortgagee Sale" adds it means this is the second round and is designed to attract buyers.  A very good point for you to know- right? So next time you see an ad with "Mortgagee Sale" treat it as an "On Sale" sign meaning you won't necessarily get a bargain.
Please check this Australian Government webpage to know more about "Probate Properties"
Bargains come with knowledge and experience
For the majority of people when it comes to buying a property – they employ their knowledge about the location of the house and the condition of the house. Yet when a property investor checks a property it also means an exit strategy – meaning how to sell that property later and how much money that investor can make while holds the property.
As you would appreciate "Deceased Property" or "Mortgagee Sale" adverts attract more prospective buyers than a piece of food flies. (Initially, I wanted to use a different comparison yet this one is good enough). Many prospective buyers mean more competition for you and subsequently means a higher price for the property.
I am ready to buy the first New Zealand Home in Queensland Australia show me how-to?
How Vlad Ivanov can help you to buy your first Gold Coast investment property? By offering you off-market deals, that's how – check his first page on this website to see for yourself – Vlad Ivanov advertises to property owners DIRECT and bypasses real estate salespeople. This tactic makes your investment property a lot more affordable. Our team also helps to sell and manage Gold Coast properties and even something else to mention: Vlad Ivanov offers "Short Term" conversions and management.
At the end of the day, Vlad Ivanov is not interested in offering something that hasn't got value. Would you agree if a property doesn't have value why someone will buy it in the first place? Once you see value in a property and it is backed up by a property market research or in other words "comparable marker analysis" it is much easier for you to buy that property for your property investment purposes.
Would you agree people like to do business with people they "like & trust"? Firstly let's introduce us to each other. Complete the form below to get in touch.
When you enter our email alert you are going to get a few deals with explanations why a particular deal is good and this is even going to be backed up with a market comparison report, making it even easier to understand the value in a particular property. Please complete the form below if you want to get a current market report on Surfers Paradise.
How much deposit do I need?  To buy the first New Zealand Home in Queensland Australia
As you already know in order to buy an investment Gold Coast property you would need a deposit. If you have 20% of the list price it would be great. Yet even with 10% New Zealanders can qualify for an Australian mortgage. Yet keep in mind there is an additional amount of tax to pay due to the fact that you are in fact an overseas buyer. Still even with all the taxes Australian property prices a lot more attractive to compare to New Zealand. Please read tax requirements here.
The idea of property investment is really simple: buy an investment property, rent it out and start to repeat the process as often as you could. Now let's see what can make this idea even more attainable.
Property condition – run-down properties have lower prices
The need of the current owner to sell fast. Can be due to taxes, a divorce, relocation, and even age of the owners.
Now think about it – by simply allowing yourself to think wider (geographically speaking) you made this idea realistic for yourself.  The only difference is some people read about things yet never act however others take action. Who would you want to be associated with?
Are you here for a long term?
Where would you want to be in three years' time? In the same job saving for your first home?  Or almost financially independent with a few property investments which bring you a healthy amount of money complementing your income? You are only one step away from your financial independence. Put your name down and receive our off-market deals. "Free and no obligation". I have to confess one day this service is going to became "subscription" based meaning not free but before it happens you might get a few properties – so subscribe and get yourself ready.
Now, one more important point, by this stage in your life you most likely know about all New Zealand banks are in fact Australian banks? (That's me being sarcastic J) The point here is it is really easy for New Zealand citizens and residents to get Australian loans. You can do it with Vlad Ivanov help or by approaching any other broker. In order for you to get a pre-approval you only need the following documents:
Proof of your deposit – bank statement
Proof of your income – 3 months' payslips
IDs Passports and Driver licenses
Provided all your numbers make sense for a lender – you are going to get a pre-approval.  Once you have a pre-approval from an Australian bank you start looking for a property. By using our email alerts and the two major websites I mention above.
Yet let's make the whole process easier – how about starting with a simple completion of the form below?